About Us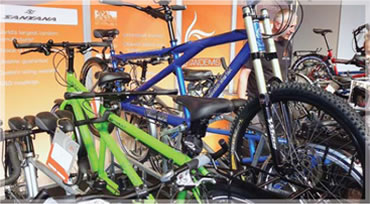 Our tandem showroom
"thanks for a fantastic bike .... everything is perfect"
Magnus and Sofia, Sweden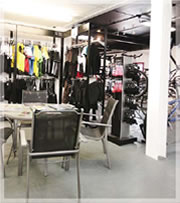 Our consulation area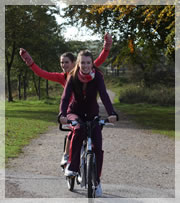 The joy of tandeming
The Orbit brand name has been around since the 1950s, with a range that included both solo bikes and tandems. In 2006, tandem experts Ruth and John Hargreaves took over the tandem part of the Orbit business. Since that time we've relaunched the brand and significantly expanded the range - from only three models back in 2006 to eighteen at the last count.
Our aim, in developing Orbit as a leading tandem brand, is to ensure our customers can enjoy tandems bikes that are not only good value for money, but also innovative and leading in their design and manufacture. Each and every one of our bikes is handcrafted with a high level of attention to detail and this is reflected in the growing number of customers that choose Orbit tandems, time and time again.
Because Orbit tandems are all made to order at our showroom in Gargrave, North Yorkshire (UK), we're able to provide a bespoke service to all our customers. We create tandems for all manner of riders, from leisure riders through to hard core tandem enthusiasts and use only the highest quality components. Our lightweight aluminium frames are made by international frame manufacturer Kinesis, whilst frames for the Orbit Summit range are hand built exclusively for the Orbit brand by Bob Jackson Cycles of Leeds, a company that's been building bicycle frames for more than 75 years.
We're so confident you'll be happy with your Orbit tandem that we offer a 10 year frame guarantee with every tandem we sell.