Test Rides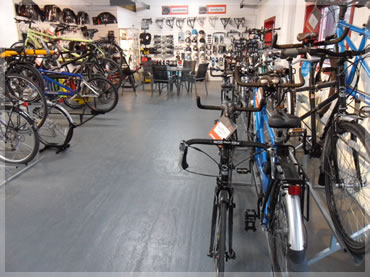 Our tandem showroom
"Thanks for all your encouragement. Still cannot believe I ever agreed to come to Gargrave, but am very glad we did!"
Penny & David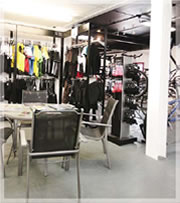 Our consulation area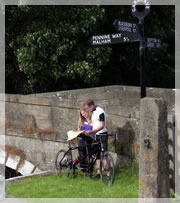 One of our test ride days
If you're seriously interested in buying an Orbit tandem, why not come and visit us for a free of charge test ride of the models you like the look of? And don't worry if one or both of you has never ridden a tandem before, we'll be on hand to provide any tuition or support you might need in the beginning.
Our showroom is based in Gargrave in North Yorkshire, which has good transport links from the North and the South of the UK. If you're coming from further afield, we can even recommend places to stay nearby.
All we ask is that you call or email us ahead of your visit, to make sure we have the right tandems available for you to test. We're quite a small team, but we like to make sure each and every one of our customers gets the attention they deserve. Call us on 44 (0)1756 748822 or send us an email info@orbittandems.com and let's get a date in the diary!
Test models:
You're welcome to try as many different models as you like whilst you're here. Currently we have the following fleet available for test rides:
Velocity Lite 20"/16"

Velocity Comp 22"/18" & 20"/16" & 18.5"/15"

Velocity Tour 23"/19"

Velocity Sport Disc 20"/16", 22"/18", 23"/19" & 20"/19"

Velocity Pro 20"/16"

Velocity Pro Plus 22"/18"

Velocity Nine 20"/16"

Velocity Steps E8000 21"/17" & 19"/15"

Routier Sport Disc 26" 21"/17" & 18"/14"

Summit Rohloff 21"/17"

Summit Tour 21"/17"

Summit Sapphire 20"/16"

Lightning Pro 22"/18", 20"/16" & 19"/15"

Lightning Pro Disc 22"/18"

Lightning Race 20"/16"

Lightning Elite 20"/16"